About BAU
Bay Atlantic University is a Washington DC based private, non-profit University that offers the very best in higher education programs to US and international students at its centrally located campus, just a short walk from the White House.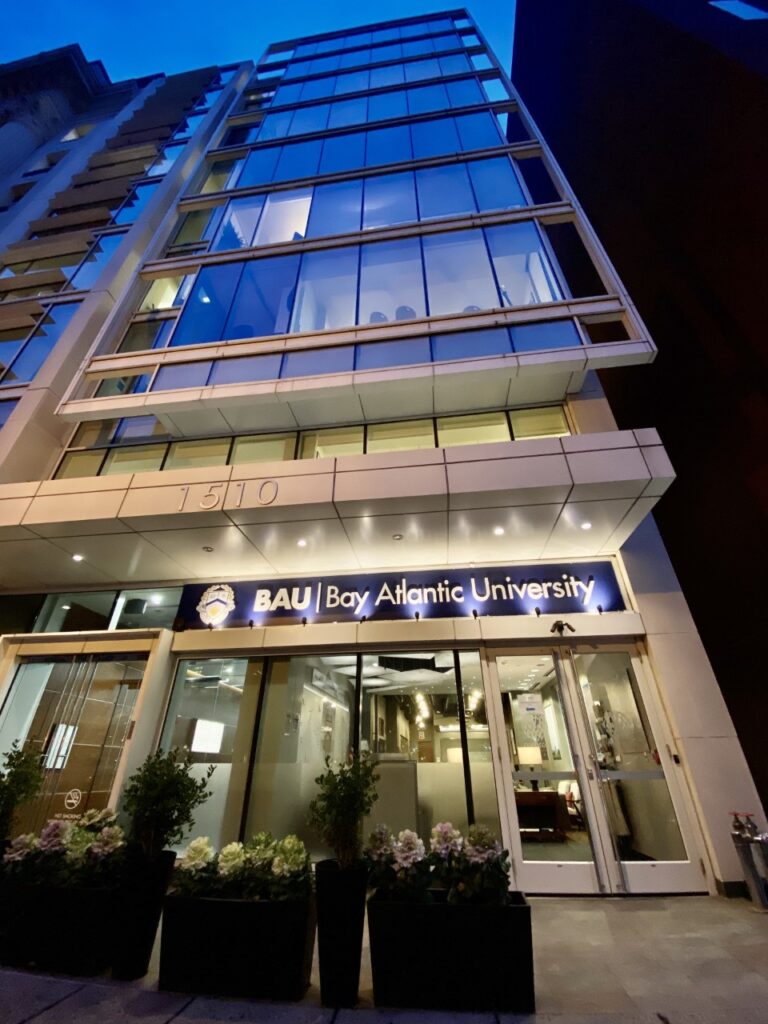 Bay Atlantic University is established as a New Generation University which is defined by six key aspects: Affordable, Focused, Global, Connected, Central and Dynamic; aspects that are measured within the strategic planning process. 
Bay Atlantic University defines a New Generation University by 6 key aspects: Affordable, Focused, Global, Connected, Central, and Dynamic.
Affordable
We believe that high quality education doesn't have to come at a high cost. BAU strives to make high quality education available for everyone. We first accomplish this by setting our program tuition to a reasonable price that most full-time professionals can afford. In addition to this, we offer numerous scholarship opportunities (In our short history since our establishment in 2014, we have already provided $6.5M in scholarship relief). Visit our Scholarship page for more information.
Focused
We put our students in the best position to succeed in their careers/lives by offering degree programs that are in high demand fields and rapidly growing. Additionally, being in the heart of DC, we know our environment; which is why we offer degrees in Politics, Business, and Information Sciences: the three core industries that power DC and the world. Finally, all our programs have focused curriculum that are updated each year to remain consistent with current trends in the fields.
Global
Here at Bay Atlantic University, we believe in education without borders! We encourage our students to be global citizens. The international environment on campus enables them to learn about other cultures and discuss global matters with different perspectives in the courses.
Connected
BAU is well-connected to the DC Community through our business partnerships, faculty networks, and community service. We have established partnerships with local businesses. All of our professors are scholar-practitioners who have worked for local institutions. Our students and staff are involved in community service projects throughout the DMV area. Through these various connections, students have a ton of internship and employment opportunities by simply tapping into any one of these networks.
Central
In an age where more and more professionals are moving to cities, BAU provides a central location for students that exposes them to an environment of great cultural, technological, and financial advantages. As opposed to being confined to just one campus; The whole city is our campus and our students have easy access to a variety of important institutions such as think-tanks, research organizations, NGOs, key U.S. government agencies, foreign embassies, and leading international institutions (World Bank, International Monetary Fund, Inter-American Development Bank). Students aren't limited to just on-campus events; students can attend numerous cultural events and festivals throughout the year. Finally, for those students who work and study, our prime location allows for easy commuting to and from class.
Dynamic
BAU prides itself on providing a curriculum that reflects the current market trends and most up-to-date teaching methodologies. BAU also offers guidance and instruction for professional development that is specific to each student. We accomplish this by offering professional workshops and 1-1 sessions such as resume building, mock interviews, counseling, webinars, etc.. Recently, we have been bringing businesses on campus to host professional seminars for our students, allowing them submit resumes to employers right on the spot. Lastly, as we are a growing university, we are able to offer most our students on-campus employment opportunities to gain valuable work experience while studying.
University Background
–Founded: 2014
–School Colors: Blue and Gold
–Mascot: Dolphin
–Motto: "Peace through Education"
*For more information or to arrange a visit, please contact our Admission team at [email protected]