Location, Transportation, and Directions
Address: 1510 H St NW, Washington, DC 20005
Phone #: +1 (202) 644-7200
Email: [email protected]
The BAU Campus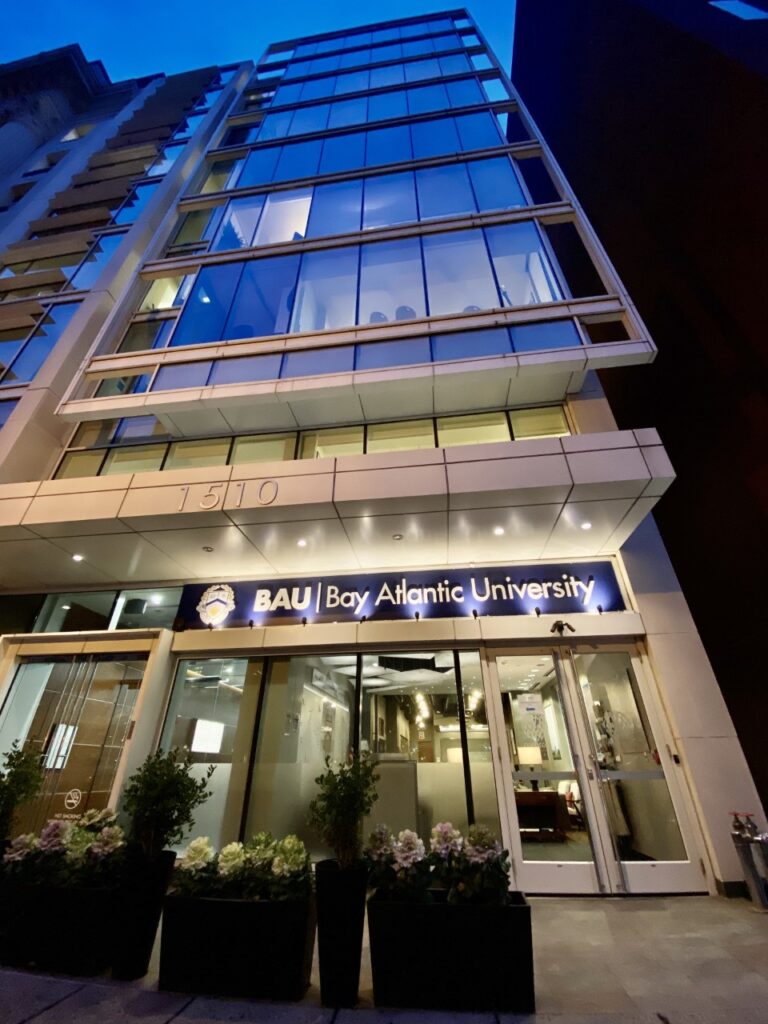 Bay Atlantic University is located right at the political and cultural center of the nation's capital, just two blocks from the White House.
BAU's campus consists of 6 floors with state of the art:
-Classrooms
-Library
-Student Lounge
-Computer Lab
-Student Union
-Writing Center
-Podcast Booth
BAU is also home to the Global Policy Institute, GPI, (www.globalpi.org) a highly regarded think tank whose research focuses on energy issues, education, economics, global affairs, and international security.
A Great Location
Bay Atlantic University's location in downtown Washington, D.C. gives all BAU students easy access to important think-tanks, research organizations, NGOs, key U.S. government agencies, foreign embassies, and leading international institutions (World Bank, International Monetary Fund, US Capitol & White House, The FBI, NASA, Inter-American Development Bank, Department of Homeland Security, and much more).
When it comes to culture, Washington offers first class facilities. The Nation's Capital is home to the Smithsonian Institution, an internationally-recognized network of famous museums. Beyond that, Washington also is home to the Library of Congress, the world's largest library, and the Kennedy Center for the Performing Arts. Neighborhoods such as Columbia Heights, Adams Morgan, Dupont Circle, Georgetown, and Eastern Market offer diverse dining and nightlife opportunities. The beautiful wildlife of the Shenandoah Valley and the Chesapeake Bay are only short trips from the city, while Rock Creek Park, the C&O Canal, and the Potomac River offer relaxing outdoor activities within the District of Columbia.
Getting Around DC
Closest Metro Stations:
–McPherson Square (blue/orange/silver line)
–Metro Center (red/blue/orange/silver line)
–Farragut North (Red line)
https://www.wmata.com
Closest Bus Stations:
–H ST NW + Madison PL NW (Bus Stop #1001141)
–I ST NW + 15 ST NW (Bus Stop #1001185)
https://www.wmata.com/service/bus/
Closest Airports:
–Reagan National Airport (9 minutes)
https://www.flyreagan.com/dca/reagan-national-airport
–Dulles International Airport (35 minutes)
https://www.flydulles.com/iad/dulles-international-airport
–Baltimore/Washington International Airport (46 minutes)
https://www.bwiairport.com
*For more information or to arrange a visit, please contact our Admission team at [email protected]