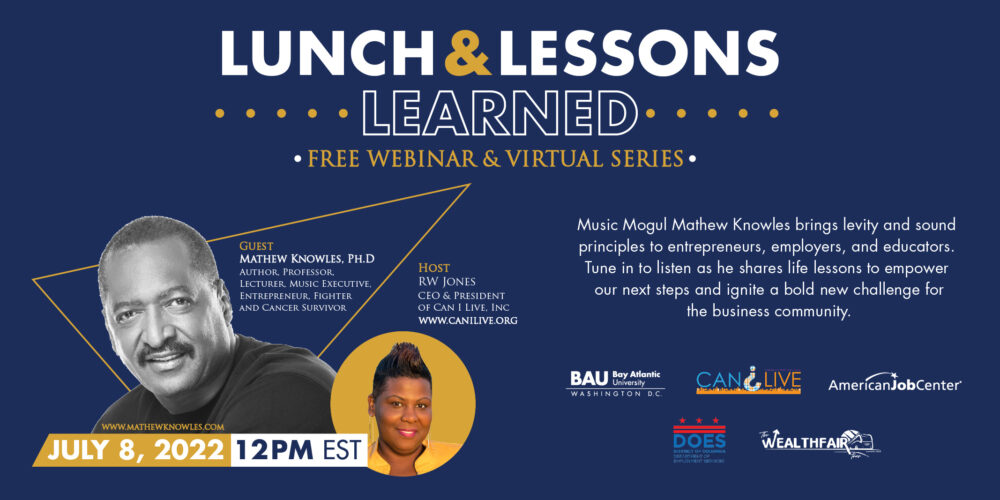 WEBINAR // Lunch and Lessons Learned with Mr. Mathew Knowles
Bay Atlantic University (BAU) in partnership with Can I Live, Inc- held an amazing online event titled "Lunch and Lessons Learned with Mr. Mathew Knowles, Ph.D." on July 8th, 2022. Mr. Mathew Knowles is a Music Mogul and Savvy Businessman who was here to bring a bold new challenge to the business community and invite DC Residents to check out our free certificate program for Job Readiness and Professional Makeover!
Watch the video to learn from Music Mogul, Entrepreneur Mr. Mathew Knowles' experience and learn more about our Job Readiness & Professional Makeover program. We also talked about our free certificate programs and other opportunities for DC youth. A lesson Mr. Knowles shared is that poverty is not just about money. The way we think is also a form of mental poverty – especially when we've been conditioned not to believe in ourselves. Learn this lesson and more as he shares life lessons to empower our next steps and ignite us all toward a new and brave goal that will level the playing field for America's poorest families by watching the video:
Full Video:
Lunch and Lessons Learned are FREE virtual webinar series that empower ordinary people to do extraordinary things.  To be a guest, email [email protected].
Become an employment, training and contracting partner to the One Million Moms OFF Welfare movement: https://bit.ly/cilemploymentpartner
Learn more about Can I Live: https://canilive.org/
Contact:
Deniz Karatas
Director of Partnerships & Outreach
[email protected]