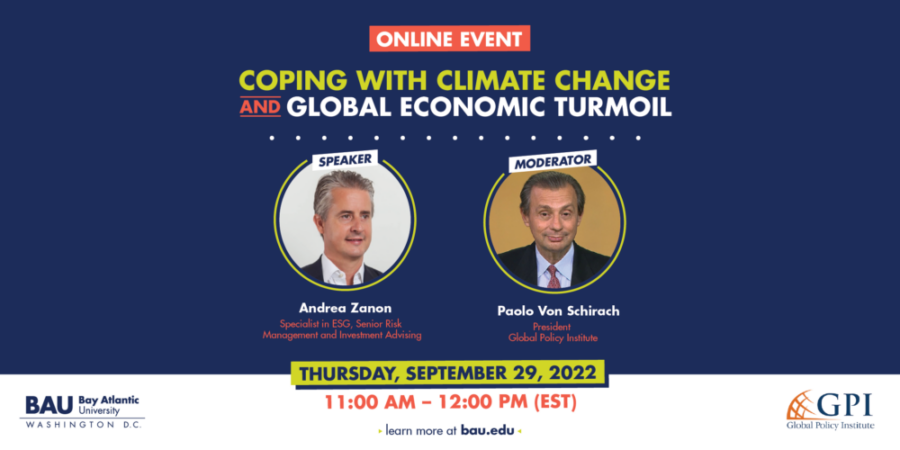 WEBINAR // Coping with Climate Change and Global Economic Turmoil
On September 29, 2022, The Bay Atlantic University and the Global Policy Institute held a timely discussion titled " Coping with Climate Change and Global Economic Turmoil" via Zoom.
With the upcoming global climate summit COP27 in Egypt and the Group of 20 forum in Indonesia, November 2022 promises to be a critical month for sustainability as well as for the global economy. This year's summits are particularly important as they take place in a general crisis environment. The world is still struggling to recover from the Covid 19 pandemic. Russia invaded Ukraine undermining Europe's energy security, and the world is on the verge of a new recession. The global economy is further undermined by unprecedented high inflation and still unresolved supply chain constraints. With so much on the table, the COP27 and G20 leaders attending are pressured to deliver guidance on the economic as well as on the decarbonization fronts.
It is therefore critically important to better understand the policy choices confronting world leaders on the decarbonization agenda and how it could play a role in helping the global economy to recover.
Full Video:
Speaker Bio
Andrea Zanon, Specialist in ESG, Senior Risk Management and Investment Advising
With 25 years of entrepreneurship, operations, resilience and technology leadership experience, Andrea brings a hands-on practical approach to partnering with the Investors, Corporate Boards, Management Teams, Customers and Employees and Minister of Finance to create accelerated returns, resilient investment, long-term growth, and market leadership. Andrea Specializes in Resilience, Investment Promotion, Risk Management,, and Empowerment Technologies. Andrea was a Senior Risk Management Leader for International Banks of Development and raised and managed $9 billion in multiple technology, innovation and risk management investments and founded multiple businesses. Andrea is a Science and Foreign Policy Graduate Degree from Georgetown University in Washington DC, and a Bachelor degree in Philosophy and Foreign Languages from Bologna University, Italy.
Moderator
Paolo von Schirach, President, Global Policy Institute, Faculty, Bay Atlantic University