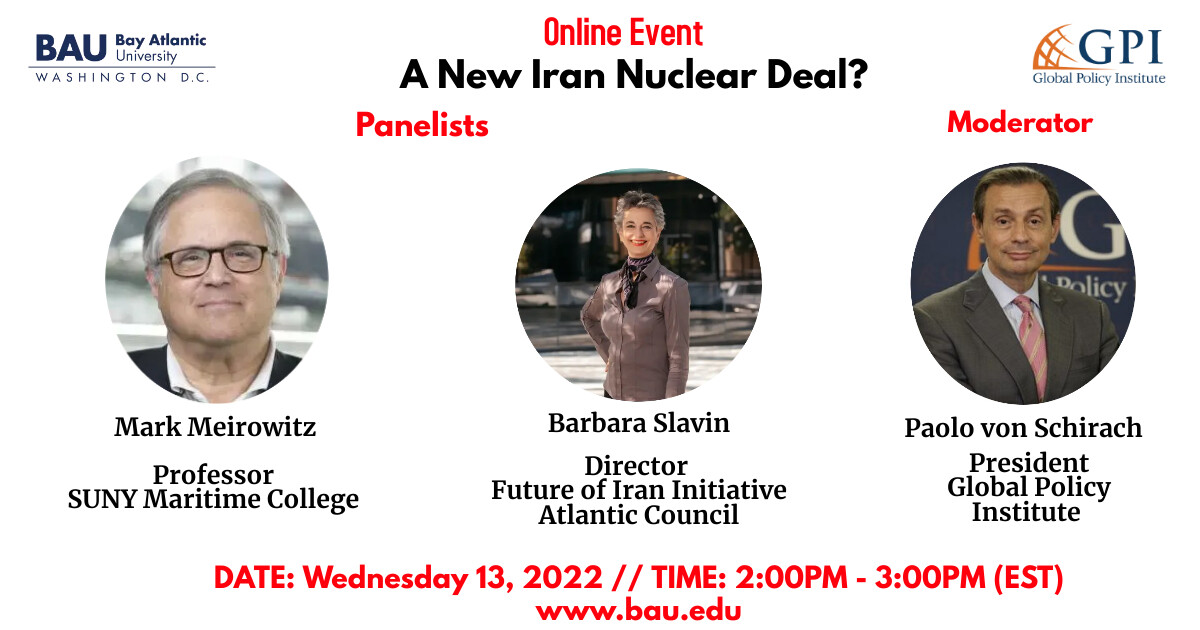 Webinar: A New Iran Nuclear Deal?
On April 13, 2022 at 2:00pm (EST) The Bay Atlantic University and the Global Policy Institute held a timely discussion titled " A New Iran Nuclear Deal?" featuring US experts via Zoom.
After former President Donald Trump formally withdrew the US from the "Iran Nuclear Deal" reached by the Obama administration, Iran took actions aimed at increasing its nuclear program capabilities. The US efforts to force Iran's hand to negotiate a new deal via the pressure of heavy economic sanctions did not succeed. With a new US president in the White House, is there now a new way forward? We know that Iran and the Biden administration, along with the other parties to the old deal, have been involved in complex negotiations. Will there be a new agreement? The US position is that Washington wants to make sure that Iran will never become a nuclear power. Can this be achieved? And what about the sanctions? And what about other issues related to perceived Iranian threats to regional security? Will they be addressed?
Event Recording
Panelists
Barbara Slavin, Director of the Future of Iran Initiative, Nonresident Senior Fellow at the Atlantic Council
Barbara Slavin is the director of the Future of Iran Initiative and a nonresident senior fellow at the Atlantic Council, a lecturer in international affairs at George Washington University. The author of Bitter Friends, Bosom Enemies: Iran, the US and the Twisted Path to Confrontation (2007), she is a regular commentator on US foreign policy and Iran on NPR, PBS, and C-SPAN.
A career journalist, Slavin previously served as assistant managing editor for world and national security of the Washington Times, senior diplomatic reporter for USA TODAY, Cairo correspondent for the Economist, and as an editor at the New York Times Week in Review.
She has covered such key foreign policy issues as the US-led war on terrorism, policy toward "rogue" states, the Iran-Iraq war, and the Arab-Israeli conflict. She has traveled to Iran nine times. Slavin also served as a public policy scholar at the Woodrow Wilson International Center for Scholars, where she wrote Bitter Friends, and as a senior fellow at the US Institute of Peace, where she researched and wrote the report Mullahs, Money and Militias: How Iran Exerts Its Influence in the Middle East.
Dr. Mark Meirowitz, Professor, SUNY Maritime College & Fellow, Global Policy Institute
Dr. Mark Meirowitz is a Professor at SUNY Maritime College, holds a doctorate in Political Science and is also a lawyer. He has taught a wide variety of courses, including in the areas of American Foreign Policy, International Relations, American History and Constitutional Law. Previously, he completed the SUNY Levin Fellowship during which he taught English Conversation to Turkish Faculty while in residence at Istanbul Technical University.
Dr. Meirowitz frequently appears in the Turkish and other international media as an expert on issues related to International Relations, Turkish Foreign Policy and American Foreign Policy, and has been a panelist and moderator at numerous academic conferences and panels dealing with these areas of inquiry (including a panel which he organized and moderated on the Iran Nuclear Deal for the Global Policy Institute, where he is a Fellow). He also organized conferences at Maritime to commemorate the 100th anniversary of the Gallipoli/Canakkale Campaign as well as to explore the legacy of Captain Cook and the HMB Endeavour.
Moderator
Paolo von Schirach, GPI President, and Chair Political Science and International Relations, Bay Atlantic University