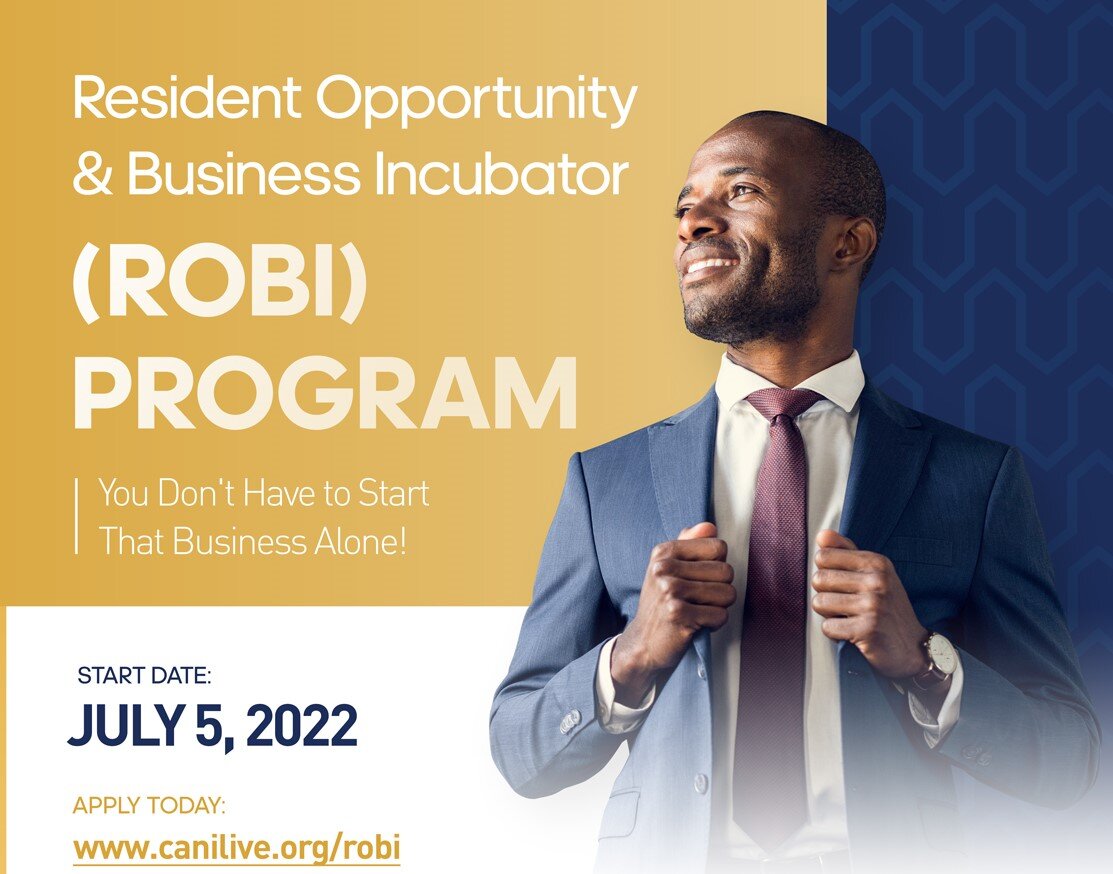 Entrepreneurship and Small Business (ESB) Certification
We are pleased to continue our partnership with Can I Live Inc. a national non-profit with one bodacious goal – "To Move a Million Moms (and dads) OFF the Welfare System by 2030". With this partnership, BAU is proud to offer under-served and under-resourced entrepreneurs a network of support, capital, and technical assistance through the "Resident Owned Business Incubator (ROBI)". ROBI is an entrepreneurship and small business licensing course which gives DC low-income residents a fair shot to the middle class through self-employment.
ROBI Program provides DC's first-generation, under-resourced entrepreneurs, a full year of support which includes 15weeks of intense classroom training, business planning and coaching, as well as marketing tools, networking opportunities, seed investment.
ROBI is currently funded and offered through the District of Columbia Department of Employment Services (DOES) for free for the eligible District of Columbia residents. 
ROBI's program of study utilizes the Entrepreneurship and Small Business (ESB) Certification offered by Certiport, a globally recognized leader in certification exam development. Students who successfully complete the program will leave with their business plan, business license, website, logo, electronic business card, custom domain, personal email address and access to videos apps and intros, and royalty free high-resolution photos and a chance to pitch for cash in quarterly competitions.
ROBI Next Cohort: 7/5/2022 – 10/3/2022
WHERE?
ROBI is a virtual training program offered to anyone at least 18 years of age with high-speed internet/wi-fi capabilities. While we prefer a GED or high school diploma, it is not a requirement for some of our training programs.  Successful candidates are able to access the internet, have a basic level of technology capability, and can read and write at a 12th-grade level.  Our training programs are robust enough to give you what you need and basic enough to not overwhelm you as you begin the journey of entrepreneurship.  All ROBI courses are offered online through our e-learning COMMUNIVERSITY platform.
WHO IS ELIGIBLE?
ROBI program participants must be at least 18 years old with a high school diploma.  While there are a couple of programs that do not require a high-school diploma, it is a highly recommended thing to have.
If you are applying to the program under DC Government Department of Employment Services, here is the checklist of documents you will need to be certified and or deemed eligible to participate in the program.
In Partnership with: