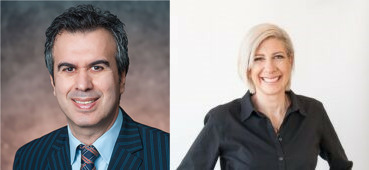 BAU Welcomes Two New Board Members
The BAU community would like to welcome two distinguished board members that will serve on the BAU Board of Trustees: Prof. Erdal Tekin and Baglan Rhymes.
The Board approved and welcomed them during the Fall Board of Trustees meeting on October 13, 2022.
Professor Tekin is an economist with primary research interests in the fields of health economics and demographic economics. He has also written and published numerous articles studying the impact of childcare subsidy and other major welfare programs on parental and child outcomes. His research has been funded by organizations such as the National Institutes of Health, Robert Wood Johnson Family Foundation, and the Danish Council for Independent Research, among others.
Baglan Rhymes has been instrumental in building, shaping, and branding some of the hottest tech start-ups in Silicon Valley, and she is a thought leader on the topics of entrepreneurship and innovation in technology and digital media with an emphasis on monetization strategy. She had led the charge in CVE: Strategic Communications, Cyber Crimes, and Information Operations to combat terrorism online and divided her time between Tampa and McLean. Ms. Rhymes is named one of the most Influential Turkish Women in the United States of America, and she is an active member of the Forbes Council.
Read more about them and the rest of the board here.