If you have excellent communication skills and are creative, a job as a communications officer might be your career. This position requires you to multitask and do many things, but the best part is that you can work across almost every industry because it's that versatile.
This probably sounds like an exciting career path; in this article, you will find everything you need to know about a communications officer, their primary duties, and how you can become one.
What Is a Communications Officer?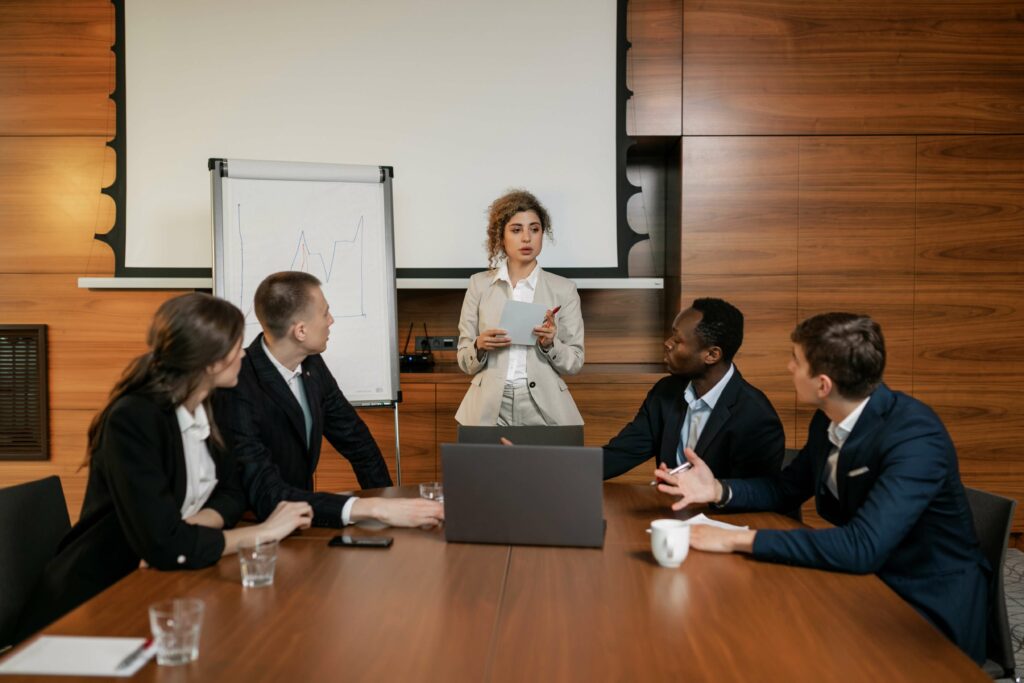 Communications officers, also known as communications specialists, do many things simultaneously. They write and distribute content to promote an organization's products, brand, or activities. Hence, they act like a liaison between the public, the organization, and the media to ensure the brand stands out.
Essentially, communications officers deal with an organization's communications efforts, including marketing and public relations. They also need to complete market research, implement communication policies, and communicate with media personnel for any news to keep their brand's reputation.
As you can see, one of the primary skills that a communications officer must have is communicating effectively. By doing so, they build a positive image for the organization, keeping the target audience in mind at all times.
What Does a Communications Officer Do?

A communications officer does everything to maintain a brand's image. Generally, they create content, such as publications, website content, press releases, annual reports, and other marketing materials. They also arrange interviews, compile analytics and metrics, and keep a narrative of media coverage.
They have several duties they need to complete, some of which include:
Developing, writing, and editing communications and marketing materials (blog posts, social media content, press releases, speeches)

Conduct surveys or contact people of the target audience to understand their views

Prepare reports for the management team, including recommendations to ensure a more positive attitude

Promote communications and marketing materials through social media

Regularly meet and arrange interviews with media personnel

Develop working relationships with journalists in different types of media outlets

Ensure that all marketing and communications material align with the brand's standards

Maintain digital media archives (photos, videos)

Act as a spokesperson for the brand

Prepare and manage the organization's budget regarding communication

Arrange news conferences for essential announcements

Perform media outreach to make the brand part of their publication

Work closely with marketing and product managers, designers, and website managers to collect information
But wait, there's more! A communications officer should also have collaborative skills because they need to work with team members and implement communications campaigns and strategies. Additionally, they should seek opportunities to improve the brand's reputation, as this is one of the most crucial duties they're expected to do.
In cases when there are communication crises, a communications officer should be able to develop escalation protocols and manage conflict. This is a lot to take in!
How Do You Become a Communications Officer?

If you've got the skills already, you're one step closer to becoming a communications officer. However, there are some requirements that you must fulfill, such as education, work experience, and some advanced skills. Let's go over each one.
Step 1: Earn a bachelor's degree
A bachelor's degree is the minimum requirement for a communications officer. They must have a degree in communication, journalism, public relations, or a related field. According to Zippia, 60.2% of communications officers have a bachelor's degree, while 10.9% have a master's degree.
In these programs, students are expected to take writing, speaking, and public relations courses. Additionally, they'll also learn about ethics, messaging, and PR strategy, plus they might have the possibility to take classes in niche areas of PR.
If you want higher chances of succeeding, you can volunteer and complete an internship by working with organizations. Since most of your duties revolve around media, you should also take digital or new media courses.
Step 2: Gain experience
You need the experience to pursue a career path, and a communications officer is no different. Most employers look for applicants who have experience working in journalism, social media, or public relations.
Initially, you can gain experience as a communications assistant. Over time, you can advance to communications associates, taking on more duties, such as coordinating publications, working with websites, etc. That said, you must have 2-5 years of experience in communications or marketing roles.
Step 3: Become certified
To become a communications officer, you must get certified first. You can get certified by the International Association of Business Communicators (IABC) or the Public Relations Society of America (PRSA). Applicants must have a minimum level of education and 2+ years of experience to take an exam. Additionally, the IABC requires you to submit a portfolio of work samples.
You're wrong if you think the work is done after earning the certification! In fact, you will have to earn continuing education credits to preserve the accreditation.
Step 4: Earn a master's degree
Depending on your job position, some employers seek applicants with a master's degree. During these programs, you can take advanced courses in public relations or choose a specific area such as strategic planning, corporate communication, or crisis communications.
✅ Request information on BAU's programs TODAY!
What Skills Do You Need to Be a Communications Officer?

Apart from meeting the other requirements, a communications officer must also have interpersonal and organizational skills to help excel in every task. Here are some of the most important ones:
Writing
Writing is one of the most crucial skills that a communications officer must possess. They must write, distribute, and edit certain content, so they must know how to communicate the organization's products, activities, and products. This can include writing speeches, annual reports, press releases, and other materials. Lastly, they should know how to write engaging yet accurate content.
Public speaking
A good communications officer often responds to media inquiries through interviews or speeches. They also act as a spokesperson for the organization, meaning they must know how to communicate their goals to the target audience.
Social media
Communicating clear messages on social media is one of the most crucial steps to establishing an organization's image. Communications officers spend most of their time on social media, trying to develop and implement effective strategies to help maintain the brand's image. 
Additionally, they should be proficient in social media platforms because they have to create and distribute content and promote the organization's products or services.
Organization skills
It's clear that communications officers have to multitask and take on many tasks. They should have organizational skills to help them manage their time, prioritize projects, and divide tasks. They need to know how to act in cases when something unexpected happens within the organization. This ensures that communications officers possess two other interrelated skills: decision-making and problem-solving skills.
Interpersonal skills
An exceptional communications officer has interpersonal skills because they deal with multiple groups of contacts, such as marketing professionals, senior managers, and the media. When they have a positive attitude and know how to communicate, professional relationships are developed with ease. In that case, they need to have friendly traits like honesty, kindness, and integrity because only in this way can they build trust in the workplace and among workers.
Communications Officer Job Outlook and Salary
Although communications officers have a lot on their plate, their efforts are rewarded because they make an average of $70.867 per year, but the typical range is between $62,119 and $82,389.
However, the salary depends on their level of experience, education, certification, skills, or the state they live in. For example, Washington DC is the highest paying city for communications officers in the US, as they pay an average of $58,596 per year.
Regarding the job outlook, the Bureau of Labor Statistics (BLS) estimates decent job growth for communications officers, with an increase of 7% in the next seven years, or around 29,200 openings.
Additionally, more job opportunities are expected to develop about social media content since this influences people's opinions. The BLS further estimates a competition for communications officer jobs to increase, especially in large organizations with a lot of publicity, public relations companies, and advertising agencies.
Conclusion
The bottom line is that communications officers are a tremendous help to an organization because they're the ones who keep the brand's image thriving. They work with many people at once and might need many skills to do their job right, but it's worth it.
One of the best things about working as a communications officer is the career opportunities because they can choose to work for a specific role or do a little bit of everything. One thing is for sure; they know their way around a company's success.