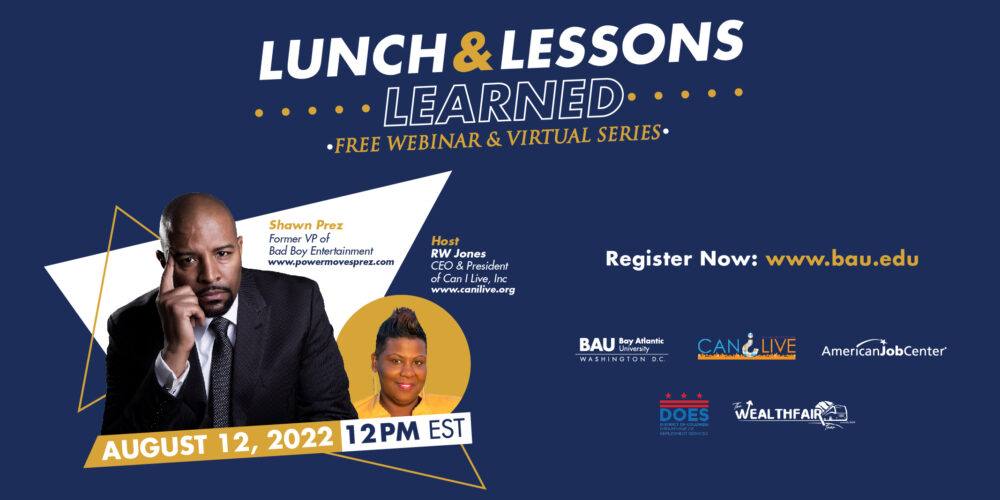 WEBINAR: Lunch & Lessons Learned with Shawn Prez
Bay Atlantic University (BAU)
 in partnership with 
Can I Live, Inc
 invites you to join us for a 
Lunch and Lessons Learned with Shawn Prez, former VP of Marketing and Promotions with Bad Boy Entertainment on August 12, 2022 at 12:00pm (EST).  
Mr. Shawn Prez is now the CEO of Power Moves and is known for building brands of Ciroc, BET, T-Mobile, and several other big brand companies.  Along with his keen sense for understanding urban culture and marketing, Shawn Prez will share solid and steady steps necessary to change your circumstances and chart a whole new course, if that is what you desire.
Tune in to listen as he shares the hardest lesson he had to learn and what he did as a South Bronx native to raise up in the ranks from an intern to the Vice President of Marketing and Promotions at the one and only Bad Boy Entertainment.
President & CEO of Can I live Inc, Racquel W. Jones will be the host of this online event and she will be providing with more information about our joint job training programs which are tuition free for eligible DC Residents. Check out our free certificate program for
Job Readiness and Professional Makeover!
Lunch and Lessons Learned is a FREE virtual webinar series that promotes powerful stories of influential people that we hope will inspire and equip low-income families with the tools they need to remove the barriers impeding their progress.  We desire to establish meaningful ways and mechanisms to help equalize resource distribution in America!
Register now to receive your Zoom Link!