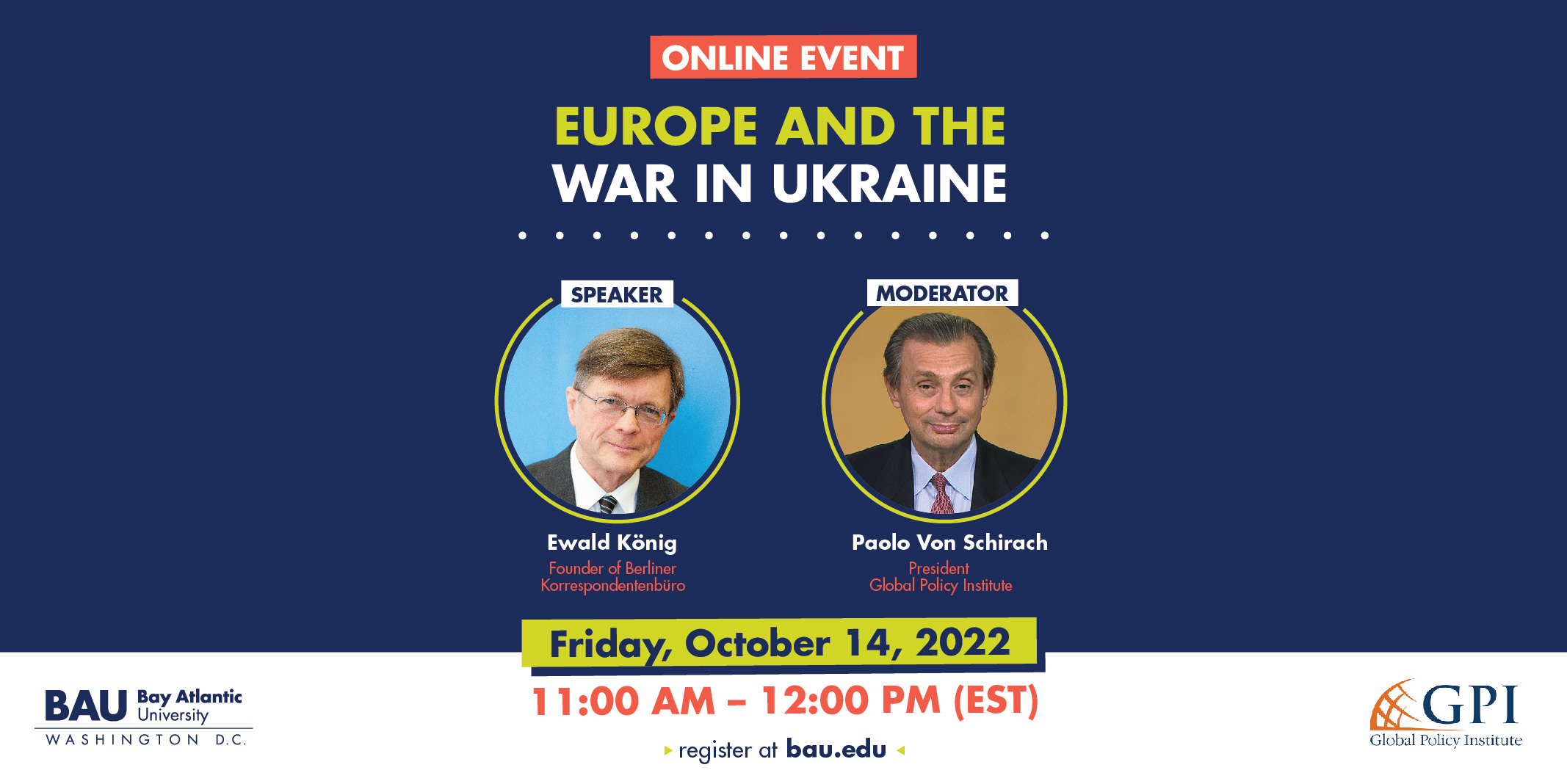 WEBINAR // Europe and the War in Ukraine
On October 14, 2022 at 11:00am (EST) The Bay Atlantic University and the Global Policy Institute held a timely discussion titled "Europe and the War in Ukraine" via Zoom.
Despite a surprisingly effective Ukraine counteroffensive, the Russian invasion of Ukraine will continue. Europe's critical financial and military support for Ukraine comes with the heavy burden of skyrocketing energy prices, on account of the interruption of Russian gas and eventually oil supplies. Within Europe, Germany is the key country, owing to its oversized economic and political weight. Will Germany and the rest of Europe endure fantastically high energy prices, indefinitely? Is there a way out of the energy crunch and the negative consequences for the economies and the standard of living, especially for the most vulnerable members of society? Will Europe really deliver on its open-ended pledge to keep supporting Ukraine, whatever it takes?
Speaker
Ewald König, Founder of Berliner Korrespondentenbüro
Ewald has been a journalist for 45 years and was the only correspondent who was accredited in parallel in West and in East Germany and became an eyewitness of the fall of the Berlin wall. He wrote several books about this time. For five years he was chairman of the Federal Association of the Foreign Press (VAP) in Germany (500 correspondents reporting to media in 60 countries). He was correspondent for an Austrian daily, then editor-in-chief and publisher of a pan-European online medium. Since then, he has been editor-in-chief of the Berliner Korrespondentenbüro – International Media Projects, TV moderator, commentator in foreign (mainly Arabic) TV broadcasters and organizer of the so-called correspondents' cafe (www.korrespondenten.cafe) with German and foreign politicians
Moderator
Paolo von Schirach, President, Global Policy Institute, Professor of Political Science and International Relations at Bay Atlantic University